I participated in the Sprite Stitch Mini Swap, and received these amazing gifts from Petitcat!!!

Yes, everything arrived in tact.

Because I've been in the middle of moving, it's taken me a bit to take the photos, but here they are!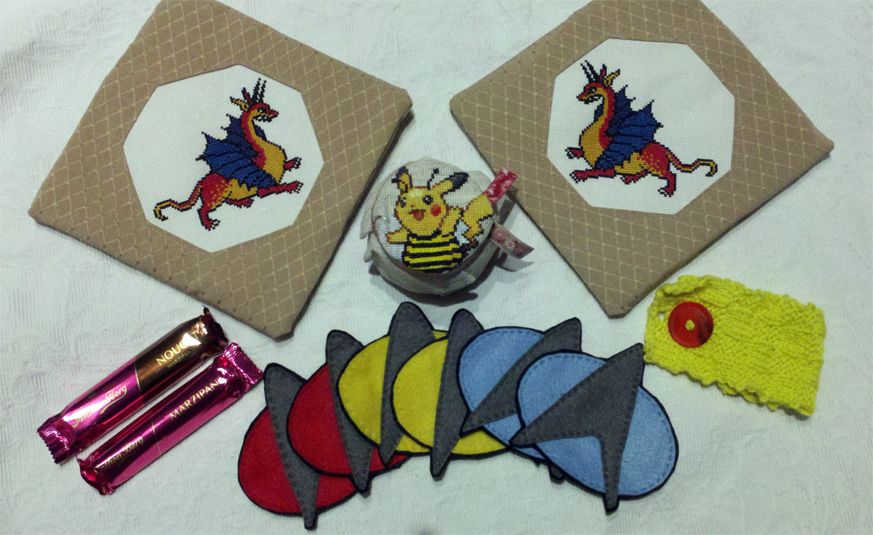 I'm going to quote from her letter a bit to help explain everything. First is her inventory list:
honey jar with pika-bee
dragon potholders
Pikachu colored cup holder
Star Trek place-mats
Danish marzipan chocolate
Here is a closeup of the Pika-bee jar:
Petitcat says that the jar with the Pika-bee cover on it is wild flower honey from her local farmers market, and that there is a guy who makes it himself and that it's good quality. I love honey! It's so sweet (pun intended) that you sent it to me and thought to make the cover. I love Pikachu

and I have a major affinity for bees. In fact, I have a silver necklace with a small bee charm that I never take off.
On to more gifts! Here is a closeup of one of the dragons from the potholders: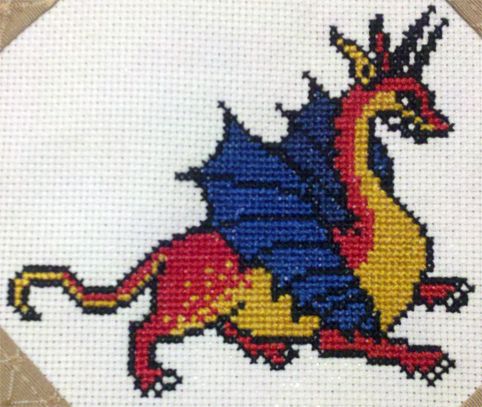 Here is Petitcat's description: "The dragon potholders pattern is from a book with patterns from the Middle Ages, and I just liked it so much. The dragon is from the 13th century, so it's old, but it's one of my favorites. (I have a soft spot for really old stuff.)"
The potholders are so cool!

They are so well made too. Did you sew the potholder part too? It's so professional. And the dragons are beautifully stitched.

And, of course, I LOVE the Star Trek com badges.

Thank you so much for everything, petitcat!!!!!!!!!